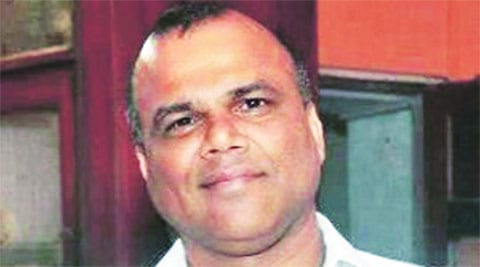 Written by Shalini Nair | Mumbai | Published: May 7, 2015 3:23:31 am
Francisco Mickky Pacheco
From a humble beginning as a tailor's assistant to a bandana-ponytail and chunky gold chain sporting biker to the owner of 11 flashy cars, including a Hummer, the only thing that managed to shift the spotlight from former Goa minister Francisco Mickky Pacheco's flamboyant lifestyle is his controversial political career. The latest in the series has embroiled Defence Minister Manohar Parrikar in its midst.
The chief of Goa Vikas Party (GVP), Pacheco, stepped down as Rural Development Minister in Laxmikant Parsekar's government last month. His resignation came days after the Supreme Court refused to grant him relief in a case in which he was sentenced to six months in jail for slapping a junior engineer with the power department in 2006.  Since quitting the ministerial post, Pacheco, MLA from Catholic stronghold of Salcette, is untraceable.
Recently, however, lawyer Aires Rodrigues alleged the GVP chief was spotted at 10 Akbar Road, the New Delhi residence of Parrikar.
Rodrigues moved a magistrate court which issued a search warrant for the Defence Minister's official residence. Within hours, the state machinery swung into action and procured a stay from a district court.
"Despite his conviction last year, the BJP government inducted Pacheco in the cabinet. Ironically five years ago, when Pacheco was the tourism minister in the Congress government in Goa and an FIR was registered against him in the Nadia Torrado suicide case, the BJP demanded his  resignation even though he wasn't even chargesheeted," said Rodrigues, who demanded that Parrikar must come clean on his last meeting with Pacheco.
When Parrikar gave up the CM's post last year to join the Union Cabinet, Pacheco, despite a history of 10 criminal cases, was the "defacto choice" to join the new state cabinet. Awarding him ministerial position was important for the BJP to maintain its support base among the Catholics who form 30 per cent of the state's population.
This isn't Pacheco's first run-in with the law though — an FIR was  lodged against him for abetment of suicide after the mysterious death of his girlfriend Nadia Torrado. Unable to find much evidence against him, the crime branch didn't file chargesheet against him but the suicide case cost him his ministerial position in April 2010. Close on heels came a CBI probe after a report, sent by the US Bureau of Diplomatic Security, which alleged Pacheco's involvement in a immigration and money laundering racket.
Other charges against him include extortion, assault on government servants, cheating and forgery in property deals, and criminal intimidation. He was also booked for bigamy after his wife Sara filed a complaint against him under the Protection of Women from Domestic Violence Act 2005 in a trail court.
Pacheco first became MLA in 2002 after defeating his mentor and Congress veteran Churchill Alemao. Known for party hopping, he has been associated with the United Goans Democratic Party, the NCP and even with the BJP for two days. In 2012, he founded the GVP.
Refusing to comment on his whereabouts, GVP general secretary Lyndon Monteiro said, "Pacheco dropped out of school when he was in Class VII and went on to support his family by working as a tailor. He later moved to Bahrain and then the US specialising in tailoring ladies' dresses. He started a recruitment agency through which he helped Goan youths find jobs in the US," he said. As per his 2012 affidavit Pacheco's assets worth Rs 5.96 crore.
The Indian Express is now on Telegram. Click here to join our channel (@indianexpress) and stay updated with the latest headlines
For all the latest India News, download Indian Express App.