Mojave's Tawee Walker (3) leaps over a Virgin Valley player during the Class 3A state quarterfinal game at Virgin Valley High School in Mesquite on Thursday, Nov. 9, 2017. Chase Stevens Las Vegas Review-Journal @csstevensphoto
Mojave's Quincy Smith (4) moves the ball against Virgin Valley during the Class 3A state quarterfinal game at Virgin Valley High School in Mesquite on Thursday, Nov. 9, 2017. Chase Stevens Las Vegas Review-Journal @csstevensphoto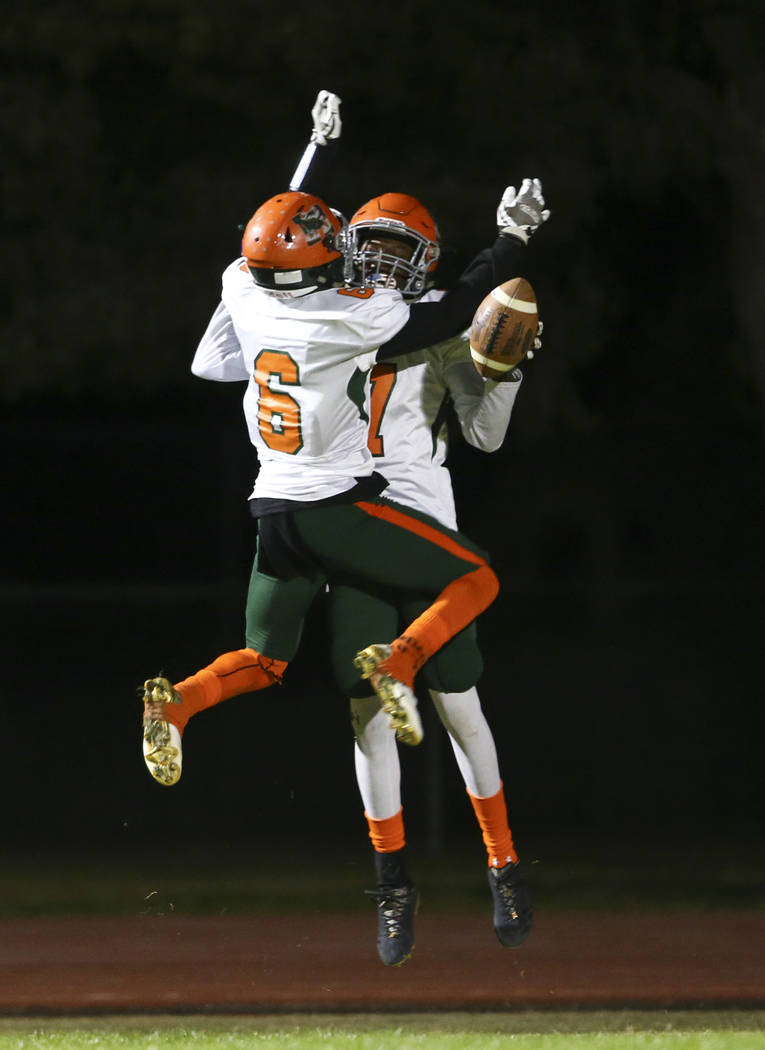 Mojave's Isaiah Harper (7) celebrates his touchdown against Virgin Valley with Mojave's Dequincy Mitchell (6) during the Class 3A state quarterfinal game at Virgin Valley High School in Mesquite on Thursday, Nov. 9, 2017. Chase Stevens Las Vegas Review-Journal @csstevensphoto
Mojave's Noah Thompson (10) looks to get past Virgin Valley defense during the Class 3A state quarterfinal game at Virgin Valley High School in Mesquite on Thursday, Nov. 9, 2017. Chase Stevens Las Vegas Review-Journal @csstevensphoto
Mojave's John Harper (11) runs the ball past Virgin Valley's Easton Jensen (2) during the Class 3A state quarterfinal game at Virgin Valley High School in Mesquite on Thursday, Nov. 9, 2017. Chase Stevens Las Vegas Review-Journal @csstevensphoto
Mojave's Quincy Smith, left, reaches for the ball as Virgin Valley's Jayden Perkins (33) is tripped up during the carry in the Class 3A state quarterfinal game at Virgin Valley High School in Mesquite on Thursday, Nov. 9, 2017. Mojave defeated Virgin Valley 46-20. Chase Stevens Las Vegas Review-Journal @csstevensphoto
Mojave's Noah Thompson (10) is tackled by Virgin Valley's Carlos Pacheco (5) during the Class 3A state quarterfinal game at Virgin Valley High School in Mesquite on Thursday, Nov. 9, 2017. Chase Stevens Las Vegas Review-Journal @csstevensphoto
Posters line the walls, student news delivers congratulatory messages, and faculty and alumni proudly fire off their #THISisMojave tweets.
Rattler Nation is in full effect and has been for weeks because of the football team's improbable turnaround in such a jaw-dropping amount of time.
Green and orange seem to be everyone's favorite colors again.
"Everyone is on board. It's just awesome," said Mojave coach Abraham Gonzalez, in his second year. "There's a big, positive vibe going around the school."
After winning one game last season, Mojave is set to play in its first state final Saturday. The Rattlers (10-2) face defending champion Desert Pines (9-2) for the Class 3A championship at 1 p.m. at Bishop Gorman High School.
"A lot of teachers walk up to me now and say, 'Good job,'" said star running back Tawee Walker, a junior who has rushed for 1,554 yards and 19 touchdowns this season. "Everyone says they're going to try and come to the game. It's just love."
Love that Mojave hasn't had in a long time.
Actually, ever since breaking ground in 1997.
But after six consecutive wins, including a 42-13 victory at Fernley last weekend, the school is buzzing for its 20th anniversary.
So how did it happen? How did a school that never has made a state tournament, let alone win a league or region title, make it to the final day of the season after going 1-8 the season before?
"Our kids put the effort in this offseason," Gonzalez said. "Our weightlifting wasn't there. Our strength wasn't there. We lost three of our strongest guys (to injuries). … And we added Kevin Walker as our offensive coordinator. I felt he was the missing piece."
Gonzalez, who started as Mojave's defensive coordinator under former coach Joe Delgado, knew the defense that allowed 24.6 points per game a year ago was "all set." The Rattlers returned several players, including the do-it-all Walker, who has been the face of the program this season.
"I never played on a team with a losing record," Walker said. "I would not want to have that feeling again. I hate losing, and so does my team. We had to change that mentality. No one should have that mentality. We took it as a lesson."
That they did.
Mojave has posted three shutouts this season, lowered its opponents' scoring average to 18 points and wreaked havoc on all levels of the defense (27 sacks, 13 fumble recoveries, 18 interceptions, four touchdowns). Walker (63 tackles), David Warren (seven sacks) and John Harper (six interceptions) lead the way statistically.
The offense has flourished under Kevin Walker — Tawee's father. Mojave has five rushers over 200 yards and could get another Saturday.
It will be a rematch with Desert Pines, which defeated Mojave 35-6 at home on Oct. 6.
Gonzalez said his team probably was "a little intimidated" the first game, considering the Jaguars have been a Southern Nevada powerhouse and churn out Division I players annually.
"We're not the same team," Gonzalez said. "We're peaking, and you can see it in the kids' play."
Especially that of Tawee Walker.
"I'm going to play like it's my last game ever," he said. "We're going to give it our all and secure the bag."
Contact reporter Ashton Ferguson at aferguson@reviewjournal.com or 702-383-0430. Follow @af_ferguson on Twitter.
Game day
Who: Desert Pines vs. Mojave
What: Class 3A state football championship
When: 1 p.m. Saturday
Where: Bishop Gorman High School