BELLEFONTAINE NEIGHBORS • Al Roth decided after this summer that he wasn't going to sell any more vegetables.
So one day in November, Roth pulled the last of his greens, climbed on his tractor and plowed under most of what remained of his family's 125-year-old "truck farm."
After a lifetime, he called it a day.
"I'm getting too many miles on this body," said Roth, 88, as he sat one afternoon at his kitchen table. "And this was a tough year, let me tell you."
Then like a true farmer, who also worked for 36 years as an electrician, Roth ticked off specifics when asked.
"Cauliflower didn't come up, broccoli went to seed, cabbage split up," he said. "Now just going to keep enough for my family."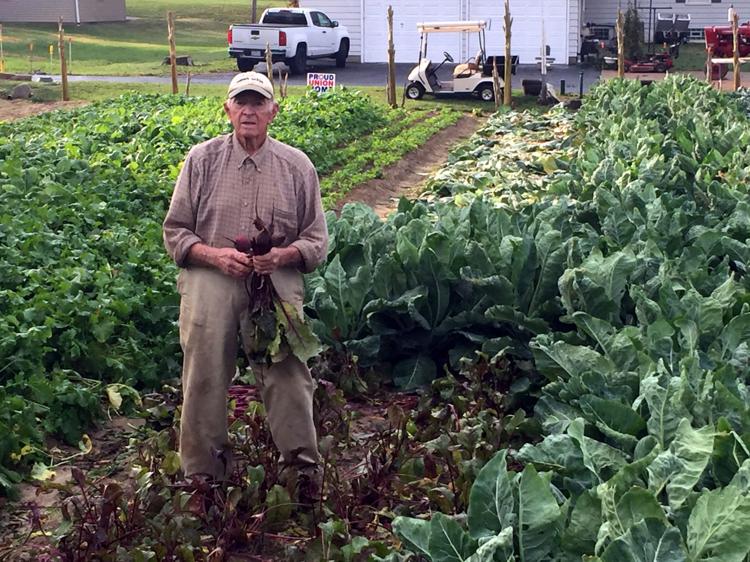 Al Roth stands in what's left of what used to be a large truck farm in Bellefontaine Neighbors. Roth, 88, plowed under most of the remaining 1.5 acres on Nov. 4, 2017. Photo courtesy of the Roth family
That farming family started in this area when German immigrant Henry Landwehr came to the U.S. about 1885.
By 1890, Landwehr had bought the plot, on a road now called Landwehr Lane, and was growing 7 acres of vegetables every year and trucking them into the "big city" to supply St. Louis produce markets, hence the term "truck farm."
Henry's daughter, Mathilda, married a young man named Fred Roth shortly after World War I ended, and the son-in-law started working the Landwehr plot with his in-laws.
When Fred and Mathilda had their only son in 1929, another farmhand was born.
"We raised anything and everything out here, just about any kind of vegetable you can think of," Roth said. He explained that while many call it "truck farming," he prefers to call it "gardening."
"Farming is when you grow grain, corn and soybeans. We only grew what we could put in bushels, load onto trucks and then drive to market," Roth said.
If this sounds too rural for north St. Louis County, Roth has a bemused smile and an explanation.
"That's all there was around here. This whole area was nothing but truck farmers, hundreds of them," Roth said.
"But I'm the last one left anymore," he added.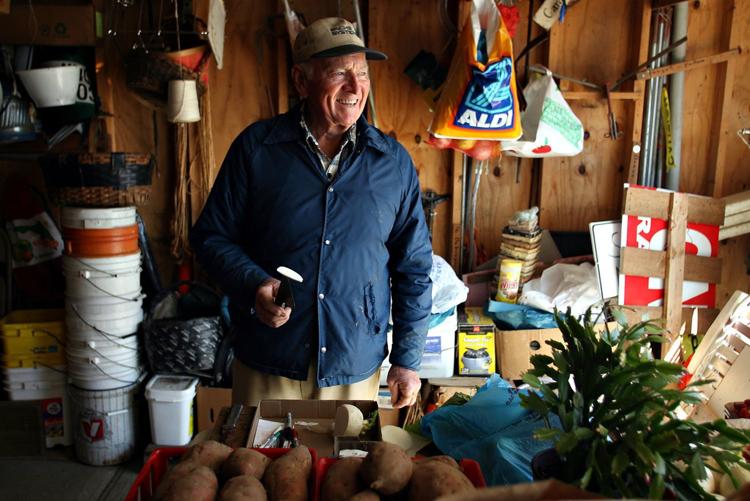 Al Roth cuts up a turnip and offers it raw to customers, while eating some himself, in this 2009 image. Photo by Elie Gardner of the Post-Dispatch
St. Louis County historian Daniel Gonzales said north St. Louis County had a long heritage of agriculture.
"The land around Bellefontaine Neighbors came from what used to be very large estates in the 1800s, a lot of it owned by Daniel Bissell," who began buying parcels when he was the commander of Fort Bellefontaine.
"But it was broken up and sold when a wave of German immigrants arrived" in the mid-1800s, Gonzales said. As late as the 1960s, the Bellefontaine area "was one-third farmland," he said.
"And now, it's all but lost to history."
But not to Roth, who still recalls life on the farm and in the woods.
Farm life
"It was all different when I was growing up. We never went to the store. We grew it all right out here. We ate it fresh or we canned it.
"And we raised our own cattle, cows, pigs and chickens," Roth said. "That's one thing I sure remember, being up and out the door by dawn to milk the cows."
Roth didn't go to high school, going only so far as finishing eighth grade in the early 1940s.
"Had a driver's license when I was 14, though. I'd been driving before that, but my mom knew somebody who worked for the county out in Clayton and she got me a license when I was 14," Roth said.
Thus began his full-time field work. Along with gardening duties, Roth was in charge of tending to the family's two mules and feeding the steer destined for butchering.
"I got this one nice and fat and took real good care of him. I named him Willie," he said. "But when they told me it was time to put him down, I told my dad I just couldn't shoot him. So my uncle came over and did it.
"Didn't care for that part much."
What he did love, and still misses, is the time he spent along Moline Creek, hunting and trapping during the downtime of winter.
"Used to get muskrat and mink down there all the time. Tried to get a fox, but never did. Too smart for me, I guess," Roth said.
But Roth sure had the family business figured out.
"We'd start picking the vegetables of whatever season we were in, in the afternoon on Mondays, Wednesdays and Fridays, and we'd have about 75 to 100 bushels of produce in boxes.
"Then we'd load them on trucks about 8 p.m. and drive through Baden and get to Produce Row about 9. We'd sell it to wholesalers there, who sold it early in the morning to hucksters and store owners."
Roth said his father, a stickler for precision, made sure the Roth produce was the best available.
"Our produce was always in beautiful shape when it got to market. Dad made sure it was all clean and stacked neatly, not just thrown into the boxes all dirty.
"I remember we were vendor No. 42, so all of our boxes would get a '42' written on them when we'd drop them off. The wholesalers would tell my dad that buyers would come in and ask if '42' had anything in.
"If we did, the buyer would buy it all without even looking at it," Roth said with pride.
But getting back to the trip through Baden, Roth noted that the north St. Louis neighborhood was "the big city for us. That's where we'd do our store shopping."
Of special delight, oddly enough, was when Roth had to go downtown to pick up a truckload of horse manure to use for fertilizer.
"The manure cost $2 a truckload, $1 if you loaded the truck yourself. So my dad would give me two bucks. Well, I'd hop out and load that truck myself, which meant I had a buck to stop in Baden on the way back home.
"They had an ice cream shop there — called Hutchison's, I think. They had the best milkshakes, and you could get one for 60 or 65 cents," Roth recalled.
"So I'd have the milkshake and still have money in my pocket when I got home," Roth said, with no small amount of satisfaction.
Changing farm
In 1953, at 24 and just married to the former Darlene Plitt, who still sits next to him at the kitchen table after almost 64 years, Roth decided to become an electrician.
"Her dad was a Mason and he had an 'in' with the IBEW, so I took the job and worked it until I retired at 62," Roth said.
The trips to Produce Row stopped in 1965, when Fred Roth died. But the family gardening operation, which by then included Al Roth's sons, Dale and Dave, opened a produce stand at Bellefontaine Road and Zellweger Drive, a stand that "had people lined up" until it closed in 2010.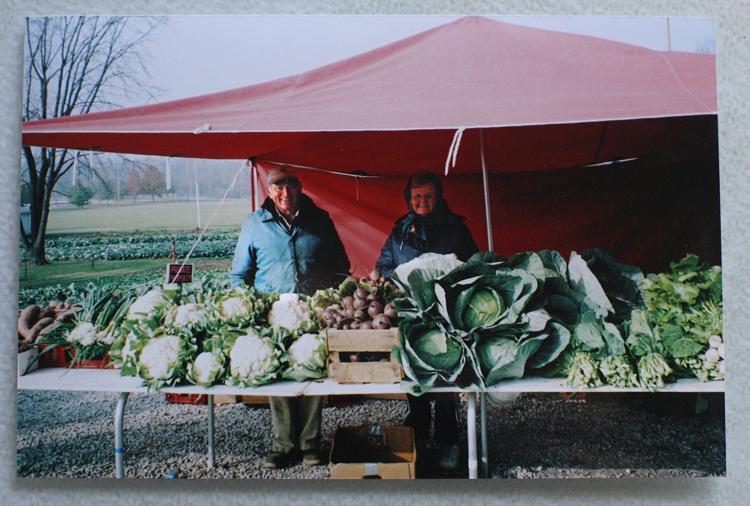 Al and Darlene Roth pose for a photograph at their produce stand on Bellefontaine Road in a 2009 family photo.
Since then, Roth has sold produce out of his large garage.
And when his neighbor, 90-year-old Clara Thornton, heard this was the last season for the garden, she directed her daughter, Gwen Davidson, to take her to the Roths' home immediately.
"They always have the best greens, collard especially. But I like their spinach, tomatoes, potatoes, eggplants; it's all so fresh and good," Thornton said.
Davidson added more praise, and embraced their retiring from the fields.
"Good for them. They're both such nice, beautiful people," Davidson said. "I will miss that produce, though."
Roth took all glowing remarks in stride and shrugged. "I just like to plant stuff, plant stuff and then watch it grow," he said.
"So I've had fun all the way through my life."